Fashion is one of the most polluting industries, and leather is the single most polluting material. As a vegan brand, our compromise is to only use vegan leather, however vegan or faux leather does not necessarily mean ecological.
So, what is vegan leather? Faux or synthetic leather is known as vegan leather because it not made out of animal skin. Most often, it is made from polyvinyl chloride (PVC) and polyurethane (PU) which can be very harmful to the environment.
Our goal is to not only use vegan materials, but to incorporate organic and circular materials into our collections, to create a sustainable and conscious alternative.
We have searched all over the world for the best leather alternative that is both high-quality and responsible with the environment. We are constantly seeking for new technologies that will enable us to be more ecological with every collection and incorporate more recycled and organic materials into our textiles.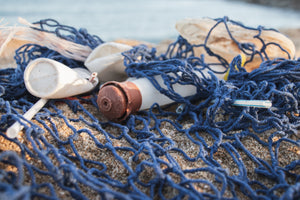 Upcycled Marine Plastic
From marine litter, to something beautiful.
Every year 8 million tons of plastic waste enters our oceans, if we don't do something, the oceans will contain more plastic than fish by 2050.
To make our linings, plastic bottles and marine litter, are
recycled and regenerated into a polyester yarn, which is then turned into fabric. For our vegan leather, this same recycled polyester yarn is combined with organic cotton and polyester yarn, then dyed with eco-friendly tints.
Organic Cotton
Organic cotton is grown using methods that have a low impact on the environment. The materials our handbags are made from, combine upcycled marine plastic, with organic cotton made in an ecological way.
At Sambar we are against single-use plastic, which is why we have incorporated organic cotton in our processes instead. At our facilities and processes, instead of plastic bags we use organic cotton wherever a plastic bag would generally be used, such as internal transport, storage and shipping. When you receive your Sambar Handbag it will be in an ecological packaging, free from plastic, and featuring our organic cotton dustbag to protect your product for many years to come.
where our marine polyester comes from
SEAQUAL INITIATIVE works with NGOs, fishermen, authorities and local communities to help clean our oceans. Marine litter from our beaches, ocean floor and surface, rivers and estuaries, is collected by clean-up programs. It is then sorted into different material types and the plastic portion is cleaned and transformed into Upcycled Marine Plastic. Environmentally conscious manufacturers then transform this new, fully-traceable raw material into inspiring sustainable products. Consumer purchasing power is one of the most powerful tools for change. In choosing products containing Upcycled Marine Plastic, you are helping to clean our oceans.